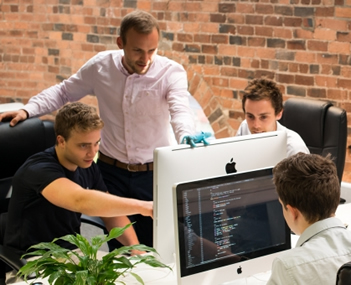 Chicago Web Works is a leading web marketing and search engine optimization company that specializes in helping Chicago companies generate leads and sales. We help Chicago companies accurately track their advertising results and get more leads and sales from the web. If you own a Chicago business, have ambitious growth goals, and are looking for an awesome partner to help you measurably improve your marketing performance and get more leads and sales from the web, you've come to the right place. Chicago Web Works vision was created with one goal in mind: to provide Chicago businesses with powerful online marketing.
Why Us?
Our company was founded with the mission to increase customer leads and sales for Chicago companies. We work alongside local businesses with our entire focus designing websites for Chicago companies. Our team consists of a range of skilled web design and marketing professionals and we are proud of our growing reputation for customer satisfaction.
Above all, we don't just build websites; we provide websites with a full marketing strategy for our clients. We work together with local companies writing content for all business types. We offer web marketing services for companies located throughout the Chicago area in need of website design and search engine marketing.
0
Packages include website changes